A review of the features and uses of the Explore Air 2 from Cricut.  While this machine was provided to me by Cricut, I am sharing with you in case this is something you are interested in, and all of the things that I mention here are my true and honest opinions.
Consider this my introduction of you to the Cricut Air Explore 2, one of my newest and most exciting "toys". I am so happy to tell you about her. (I have not named her yet, but it is coming…)
If you love crafting and want a machine that can do all of the things, including being able to handle cutting a variety of materials, then you most def wanna check out this Cricut die-cutting machine.
Let me tell you a little backstory about how me and my Cricut got to meet.
So I would see all this Cricut stuff online and people would be like "aww look what I made with my Cricut".
And I'd be all, "I wanna make stuff with a Cricut. But wait, what's a Cricut??"
I honestly had no clue what the machine really was, but I had bore witness to the things it could create and I was in love.
I'd see them in Michael's and say I gotta watch some YouTube videos on how this thing works, cause dagonit I want one.  But my fear was that there was an extreme learning curve.  
Spoiler alert: There's not.
Don't get me wrong it does take a little practice. When I was making my throw pillows for my bedroom, I accidentally set the vinyl backward on the cutting mat. So I had to redo it.
And when I was making my mason jar cookie mix tags. I cut/printed a couple of times to get things just how I wanted them.
But back to the story.
Time. I thought I would never find the time.
But THEN, the good people over at Cricut sent me a CRICUT, and here I am. I am happy to report that ya girl, me, I am now a Cricut Ambassador. Sounds official, right?
What does being a Cricut Ambassador mean??
It means I am here to share with you all the wonderful Cricut stuff (and also make you as obsessed as I am, to the point that not only do you find the time to watch Cricut videos and join all the FB groups, you pencil in the time).
I mean I am not admitting to joining all the Facebook groups. But, I heard that's what people do. So you are gonna wanna is what I am thinking, that's all I am saying here.
Anyhoo, you're probably way cooler than me and already familiar with the Cricut machines. BUT, if by some chance you are not, say helllllloooo Cricut, because right now their Explore Air 2 is one of the most popular machines out there.
What Is The Explore Air 2?
For people who craft a lot, the Explore Air 2 can expand your creative project ideas, make crafting easier, and even allow you to start a side hustle selling the goods you make.
Today I'm going to share a bit about this fabulous crafting machine so that you can see why every craft addict must own one.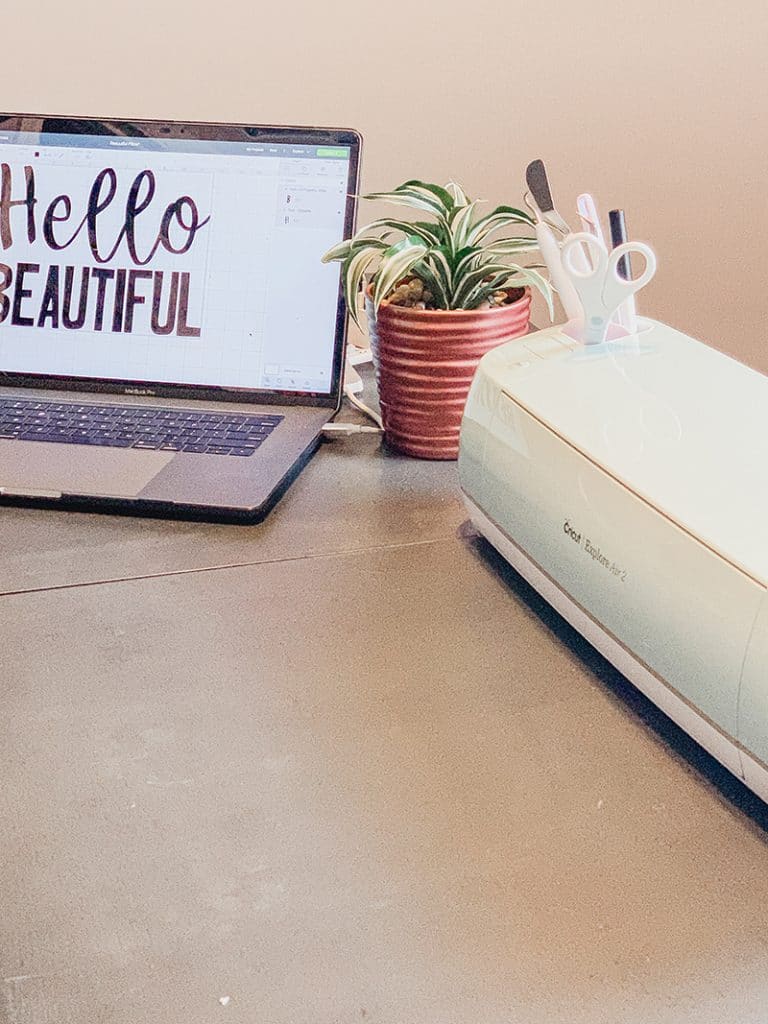 What Can You Do With Cricut Explore Air 2?
Everything that your little creative, crafty mind can think of. That is what the Cricut lets you do!
You can cut over 100 materials with this machine including cardstock, vinyl, fabric, paper, and others.
There's a dedicated smart dial that allows you to choose the type of material you're using for your craft project. Then, the machine will adjust accordingly for the material selected.
This thing is smart!
While the Cricut Explore Air 2 can technically cut leather and other thicker materials, you'll need to buy an extra blade that will cut through these materials easier.
There are so many different blades, pens, and products to use along with the Cricut, that Michael's now pretty much gave it, its own aisle.
And then there is always Amazon.
You can get all the stuff at Amazon too, delivered right to your door.  And y'all know that is how I live my life, ordering groceries and whatnot.
With over 80 different types of automatic settings, you can rest easier knowing that every project will be completed quicker and more accurately than previous Cricut machines.
What Comes In The Box?
The Cricut Explore Air 2 includes everything you need to get started.
You'll get the basics such as the adapter and power cord, the machine and a getting started guide.
You also get a german carbide blade, free images, built-in projects, a sample cardstock with a pen, and a cutting mat.
Once you open the box for your Explore Air machine, you'll immediately be inspired to get crafting.
The entire package includes materials for you to walk through a simple project to see just how powerful and easy this machine is to use.
I also love that it comes in so many color options.  This allows you to choose a color that works with your craft or office room theme.
The available colors include mint (the color I have), a couple of different shades of pink (my favorite color), and so many more, you can check out all the colors here.
How Does The Cricut Explore Air 2 Work?
Basically, it's magic, that's how!
With so many smart features available, it will take you a minute to learn all of the amazingly cool options this Cricut machine offers you. I am still learning every day.
Watching videos and obsessively occasionally checking in the Facebook groups you can learn how to do just about everything you can think up.
I love that you can enable the fast button to get a project completed quicker. The fast button is perfect to use for those larger projects that you want to be completed a little faster.
It works so accurately and efficiently that you won't have as much scrap material.
Drawing With The Explore Air 2
Did I mention that in addition to cutting the Explore Air 2 also draws as well?
It can do them in combination too!
How cool is that?
You just insert the special Cricut pens in the pen slot that corresponds with your design and it will draw, write, you name it.
Cutting with the Explore Air 2
The Cricut uses specialized blades that cut different materials.
There are three blades that work with the Explore Air 2:
Premium Fine Point

 – this is the one that comes with the machine and can be used most materials, with the most popular being HTV, vinyl, and cardstock.
Deep Point – this one is made for thicker materials like leather, magnetic sheets, and foam.
Bonded Fabric – this one is used for fabrics such as burlap, silk, and others.
Cricut Design Space
You'll need to install Cricut Design Space for your project creations. This software connects to your machine to transfer the designs that you are making from concept to creation.
It is available for use in a browser, and as an app, both on PC and Mac, as well as on your phone – both Apple and Android.
This is so dope for anyone out there who wants to use their smartphone for a quick project idea while they're sitting around the home.
Cricut Cutting Mats
Cutting mats are used to accurately cut and write using the Cricut machine.
They hold the material in place so it does not move while being processed in the machine.
They come in different strength levels that can be used according to the material you are using.
What All Can You Make With the Explore Air 2?
I am really glad you asked. You can make:
Custom greeting cards
Leather cuff bracelets
Vinyl lettered sayings for the wall
Vinyl iron-on designs for clothing, totes, and more
Stencils
Lettered mugs and water bottles
Labels for organizing cabinets
Sooooo many things…
This pillow project is my first project out the gate using the Explore Air and my Easy Press.  
It came out really good, and I was feeling a little impressed with myself.
But here is a list of some of the really cool projects that people are making with their Explore Air 2 machines too.
Overall the Cricut Explore Air 2 is a fabulous addition to the already fantastic line of Cricut machines and projects. This machine will truly inspire your creativity to run wild as you sit back, relax and watch this "smart" machine do the hard work of cutting and drawing all of the things for you with such accuracy.
And paired with the Easy Press 2, you can create all kinds of iron-on projects too! I'm telling you the creative sky, filled with paper flower cloud puffs, is your only limit.